Our biggest achievement yet: Guns, Gore & Cannoli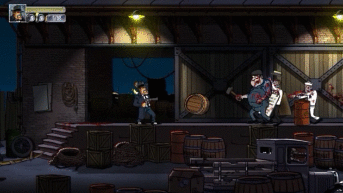 For the past year and a half we have been working on a videogame called Guns, Gore & Cannoli. Today I can proudly announce that the game is finished and it has been launched on Steam.
A little bit more about the game: Imagine The Godfather playing Metal Slug on the Night of the Living Dead. Guns, Gore and Cannoli is an over-the-top, comical, fast-paced action game with hand drawn graphics set in the Roaring Twenties. Meet Vinnie Cannoli, a hard-boiled gangster who comes to Thugtown, to find a goodfella who is gone missing. Nothing that can't be solved with a kind word with the local gangsters though. Especially when you're packing a Tommy gun and a double barrel shotgun to be a little more persuasive. There's only one thing that's holding him back... Every friggin' lowlife in the city turned into a flesh-eating maniac. This is survival horror, wiseguy style... Capiche?
For more information about the game visit the official website of Guns, Gore & Cannoli.